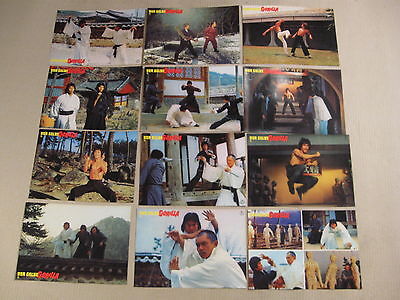 [+] Click for Bigger Image
DER GELBE GORILLA - Aushangfotos Lobbycards - 1977 Bruce Le
(€43.68)
Located in Hamburg (20146)
Go To Store!
---
Wir bieten hier 12 Aushangfotos von dem Film

DER GELBE GORILLA

HK 1977, Regie: James Nam, mit Bruce Le, Chen Sing, James Nam

ZUSTAND:  sehr gut mit leichten Gebrauchsspuren, keine Einstichlöcher




INTERNATIONAL BIDDERS:

We are offering here 12 original German lobbycards from the movie

Da Mo Tie Zhi Gong   aka    Bruce and Shaolin Kung Fu

CONDITION: Very good with minimal wear, no pinholes





ACHTUNG: ES HANDELT SICH UM PAPIER, KEINE DVD ODER VHS!!!

ATTENTION: IT´S PAPER, NO DVD OR VHS!!!